Kadence: Best Free WordPress Theme
Are you looking for a lightweight, fast-loading and simple WordPress theme? If so, you must know about the new high-quality featured theme that helps you design a stylish website in minutes. You can read this Kadence theme review from 2022.
Compares well with fast-loading WordPress themes like GeneratePress, Astra and Ocean WP.
Kadence is a multipurpose WordPress theme with lots of attractive features that also packs plenty of speed to deliver a smooth browsing experience. This is another great option you might be interested in if you want your website to load blazingly fast without having to sacrifice aesthetics and robust functionality.
Thousands of new WordPress themes are added to the online market every day. Finding a simple, light and fast loading theme among these themes is not an easy task, so it is vital that you choose a theme best suited to your needs.
There are a lot of options to choose from when viewing each of these different themes in the marketplace – whether you're looking for free or purchasable options. As always with WordPress, the real challenge comes down to finding the right kind of option for your own specific needs!
Kadence is a multipurpose, responsive and SEO friendly WordPress theme that you can use to create any website on the go. It is highly customizable and comes with tons of useful features.
It is a simple, lightweight and fast loading WordPress theme built with the latest HTML5 and CSS3 technology. This theme has everything you need to create an outstanding website. It includes all the basic features you will need when developing a website and comes with some of the best support.
Kadence Pack is a complete pack offered by Kadence theme creators. The package includes 1 theme and 16 plugins. Kadence theme comes with over 51 starter templates, all of which can be imported with demo content in one click.
Let's see the review of the ultra fast Kadence WordPress Theme 2022.
Kadence Free Edition features
There are thousands of free themes available on the WordPress theme market. But Kadance is one of the best and stands out from the rest. The theme is lightweight and helps each page load fast.
Kadence free  comes with more design and customization features not found in any free theme.
Kadence theme is available in two versions. The free version comes with limited features but meets the needs of most users.
Theme settings
After installing the Kadence theme from the free WordPress directory (  Appearance > Themes),   you will find the Kadence link under the Appearance tab . Click on this and you will get six different sections in the settings in the free version. Them.
Global Colors
branding
typography
Title Layout
Page layout
Footer Layout
a. Global Color Scale
Version without Kadence theme, theme settings controller.
Kadence offers a wider selection of colors than almost any other free theme. You can also design a full color scheme for your entire site by choosing the background color, content background color, link color and more.
You can choose two accent colors, several text colors and background colors with the color scheme settings. You can choose from pre-made color palettes or change any individual color for ultimate control.
Global color options are of great value. You can set all the colors for your website in just a few minutes without the need for CSS.
B. Logo and Site Information Management
You will choose how it will display your emblem and whether it will be displayed here alone or with the text of your website name and slogan.
C. Site font option
The body text font (from Google Fonts) and h1-h6 and breadcrumbs titles are all customizable in the typography options. Can customize each font in terms of size and weight.
D. Header – Header Design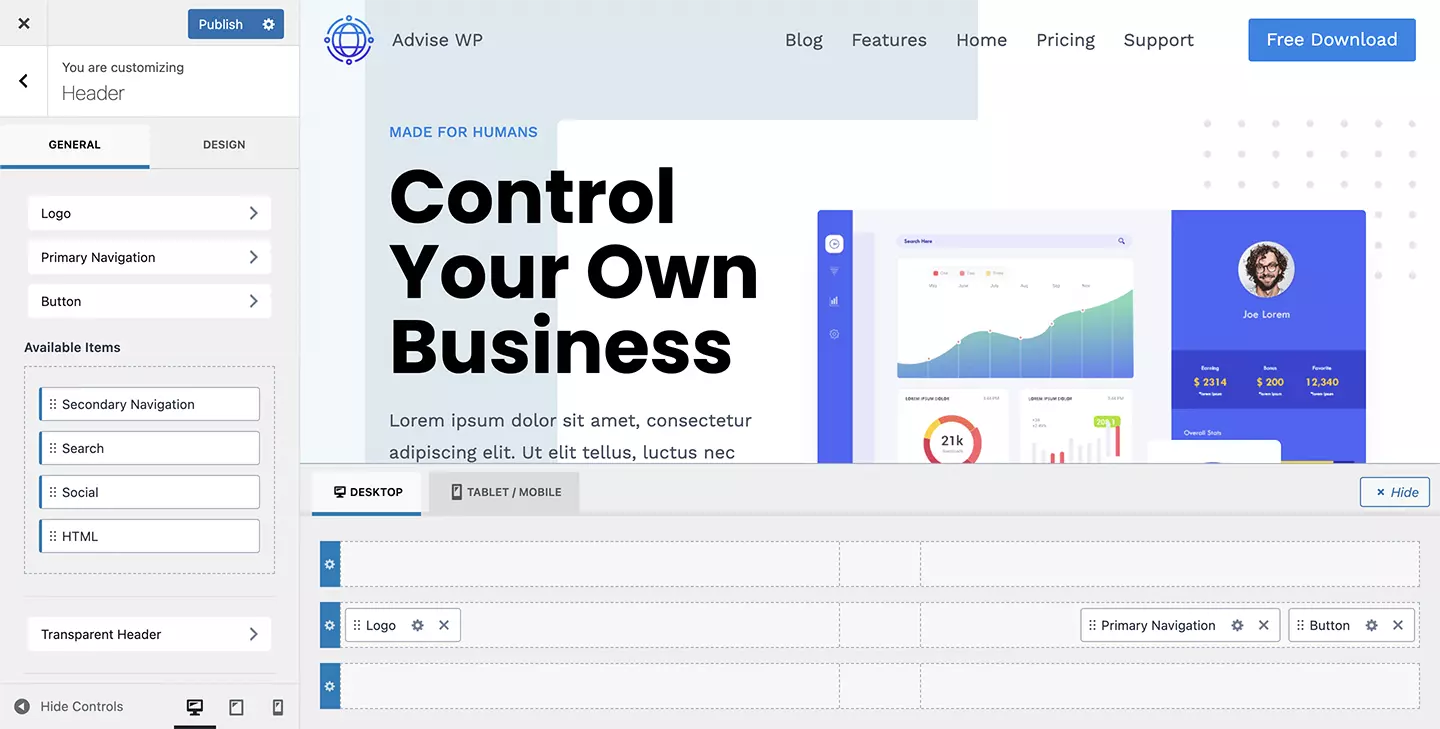 Kadence's panel of header layout configurations is the bigger deal. Even the free theme gives you the ability to change the header layout and design, while the pro version offers more options.
There are two tabs for settings, general and design. In the General tab you can check the items you want in the header. Drag and drop an item where you want it to appear.
In the Design tab, you can change the header background color (desktop, tablet, and mobile) and the transition point to mobile header.
If you click on an item in the General tab, it will give you extra options. For example, by clicking on "primary navigation" you can change options regarding the layout and design of the menu. For the most part, you have so many options for these components that you might be surprised.
to. Page layout

You can create a custom template that is used as a standard page layout using the page layout settings. The page title, page width, whether you want the sidebar to appear, location, featured images, comments and other aspects will be under your control.
The general and design tabs of the page layout settings are the same as the header layout.
F. Footer – Footer Layout
The components that appear in the footer and the design of these components will be under your control. You can use the Design tab to change how elements appear after you simply drag and drop them into place.
Additional Customization Options
You can access more settings in the customizer (choose Appearance > Customize), the six sections mentioned above are accessible via Kadence presets.
Much like the page design options discussed above, you can change the basic blog post design here. You can also customize the layout and design of archives and search results.
Overall, the customization and design settings of the free Kadence theme far exceed what you would get with a paid theme. It will be more than enough for many consumers, but it just doesn't match what you can do with Kadence Pro. So, at the very least, it allows you to sample Kadence before purchasing the pro version.
Starter Templates
When you install and activate Kadence, you will be prompted to install a plugin with free starter templates. These templates speed and simplify the process of setting up your site as well as unlimited modification possibilities and go beyond what you would expect from a free theme or plugin.
Settings can  be accessed via Appearance > Kadence > Starter Templates  after installing Starter Templates and Kadence WP plugin. You will immediately choose a builder. You can use the standard Gutenberg or the very popular Elementor plugin. I will be using Gutenberg for this demo.
Once you've selected your builder, it will show you the templates you can choose from. There are currently nine different startup designs available, each created for a different type of company or website.
When you choose a theme, you have several options to choose from, such as a color scheme and a font family.
Since the free Kadence Blocks plugin is not installed, it reported that the plugin will be installed when I import the template. You can import a single page or an entire website.
It only takes a moment to start the import process and then your website will be up and waiting for you. All necessary pages, menus, customization settings and even images are included in this option (if you selected the entire site).
You will review this and at this point adjust the text and images as needed. It can be a huge time saver!
Cadence Blocks Addon
You can get the Kadence Blocks addon for free, but if you want to use the premium version (optional), it's the same as Kadence. The free version of the plugin has a lot to offer, even if it is limited.
The blocks you can use with the free version include:
row layout
tabs
Contents
Advanced button
Advanced header
Advanced gallery
Symbol
Icon list
Information box
Accordion
references
Form
With the free version, you have absolute freedom in the editing and design of your pages and posts. Finally, if you have used the Gutenberg editor before, it will be extremely comfortable. Compared to learning a new page builder from scratch, the learning curve is short.
The pro version includes everything in the free version plus the following blocks:
Image overlay
Grid/carousel post
product carousel
split content
goalkeeper
Video popup
Advanced Slider
User information
Professional Gallery Plugins
ProCountdown Plugins
Professional Form Plugins
The row layout block is powerful to control the layout of your pages. You can choose the number of columns and influence design elements when adding a row layout block.
A prebuilt library is also available for Kadence Blocks that provides ready-to-use building blocks that you can use to quickly build your websites.
What Other Features Does Kadence Pro Have?
What additional features do you get if you buy the pro version of Kadence? The free Kadence theme and Kadence Blocks add-on contain so much that it makes you wonder.
Kadence Pro , in summary, extends the capabilities of the free theme. Professional plugins grayed out with the free theme are now accessible with Kadence Pro when viewing Kadence settings.
Take a look at the available header elements as an example of how Kadence Pro enhances the options in the free theme. Turn on the button below to activate any professional plugin.
In addition to the header layout settings of the free theme, the pro version includes 19 extra components that you can use in your header.
a. Header Plugins:
Create a premium headline with 20 new headline elements. The following are some plugins:
Account Icon
Contact Elements
dividers
search bar
Extra Buttons
Switch with slider panel
widget area
Extra HTML fields
B. Hook Elements:
Add blocks or page builder content anywhere on your site conditionally and within a specified time frame.
Show anywhere
Show only to specific users
Targeted Placement
Expires on a Specific Date
Create a Custom 404 Page
Change the header or footer
C. Final Menu:
Menu options for mega submenus, highlight labels, icons and more.
Use an icon in your menu item label.
Create Multi-Column Dropdowns
Use Custom Content for Popups.
Custom Background for Popups
D. Fixed Elements:
Expands hooked elements to allow pinned content to your page.
Fixed Footers
Fixed Banners
Show by device
to. Header/Footer Scripts:
Add options to the customizer to add header and footer scripts.
Header Scripts
After Opening Body Scripts
Footer Scripts
F. WooCommerce Plugin:
Adds new options to customizer for WooCommerce stores.
Auto Open Side Cart when product is added
Custom Shop page created with Blocks or Page Builder
Store Toggle Widget Area
Ajax Add to cart for single product page
You can also create a stunning huge menu, multi-column dropdowns, dropdowns with custom backgrounds, or add icons to your menu by enabling extra menu options.
You will love the WooCommerce plugin that gives you extra customization options within the WooCommerce customizer for ecommerce websites.
You can conditionally add it to your website, including a professional upgrade. You can filter variables, show these properties to specific users, and organize other aspects by page or post type.
You'll also get a year of support and updates in addition to these features (and a few more that haven't been mentioned).
How to install Kadence WordPress theme?
Kadence is a responsive multipurpose WordPress theme. Available in two versions. The free theme covers most of the useful features required for regular users. Premium version offers unlimited features to make the design more useful. Here are the simple steps to install the Kadence theme.
Login to your WordPress account to access your blog or website.
Then choose Appearance > Themes from the left column
Now  click on Add New  tab
Type the term Kadence in the theme search bar.
Click the Install Now   button and activate the installed theme.
After you finish the installation,  you can start customizing the theme from Appearance > Customize.
What are the best WordPress themes for creating websites?
WordPress is a popular platform for building websites and there are many great WordPress themes to choose from. Some of the most popular WordPress themes are Shopify, Nike, and Uber.
Shopify is a popular e-commerce platform built on WordPress and it's easy to see why. The theme is designed specifically for Shopify and includes features like custom checkout processes, product reviews, and more.
Nike is a popular theme for sports-related websites and has features like live stats, event calendars, and more.
Uber is a popular theme for online businesses and includes features like social media integration, customer testimonials, and more.
Kadence is another essential WordPress theme with a multipurpose design.
Choosing the appropriate WordPress theme can make your website look professional and modern. It's important to choose a theme that fits your business and goals.
Themes are available in both free and premium versions, so it's important to decide which one is right for you…
Kadence WP Theme
Kadence Theme is the most feature-rich free WordPress theme ever released!
Kadence is a great theme overall. You can easily start with the free version to test whether you like it or not, and then upgrade to the paid version when you discover you need some of these premium features.