13 Best WordPress Video Themes
The video has taken over the internet. YouTube, Vimeo, Dailymotion, TikTok and others dominate their niche and they all have one thing in common. It contains hundreds of thousands of videos, all in one place.
If you want a piece of it, WordPress has the power, flexibility, and ability to help you. Use any of these great looking WordPress video themes and your website will look amazing!
We've compiled a list of the best WordPress video themes right now. Each has the ability to showcase videos and customize them to fit your brand.
Creating a Video Website with WordPress
Creating a video website with WordPress is very simple. Since WordPress is designed to work with all kinds of content, it can already handle all kinds of media.
Along with a great looking WordPress video theme, fast web hosting, and a bit of hard work, you can have your own video website up and running in a matter of hours.
A Domain Name and Web Host
A domain name is www. The name you put in your browser to visit a website. A web host is where you rent server space to set up your website for the world to see. Both can be purchased from a single company and shouldn't cost too much.
WordPress Installation
Some web hosts automatically install WordPress on your hosting service for you . Some will provide software installers to make it easy to do it yourself. Either way, you will need a fully working copy of WordPress before you can create your video website.
A WordPress Video Theme
A WordPress theme is a graphic layer that you add to the system to make it look good. WordPress has some basic themes to get you started, but it only really comes alive when you add third-party themes.
Installing the theme is very simple.
Buy or download a WordPress video theme from this list
Login to your WordPress website
Select Appearance and Themes from the left menu of the WordPress dashboard
Select the Add New button and choose Install
Select the theme file you downloaded and upload it to WordPress
Select Enable when the button is available
This much!
Now that you know how to set up your video website and install a theme, let us show you some of the best WordPress video themes.
Best WordPress Video Themes 2021
This is a list of WordPress video themes we think are worth a try .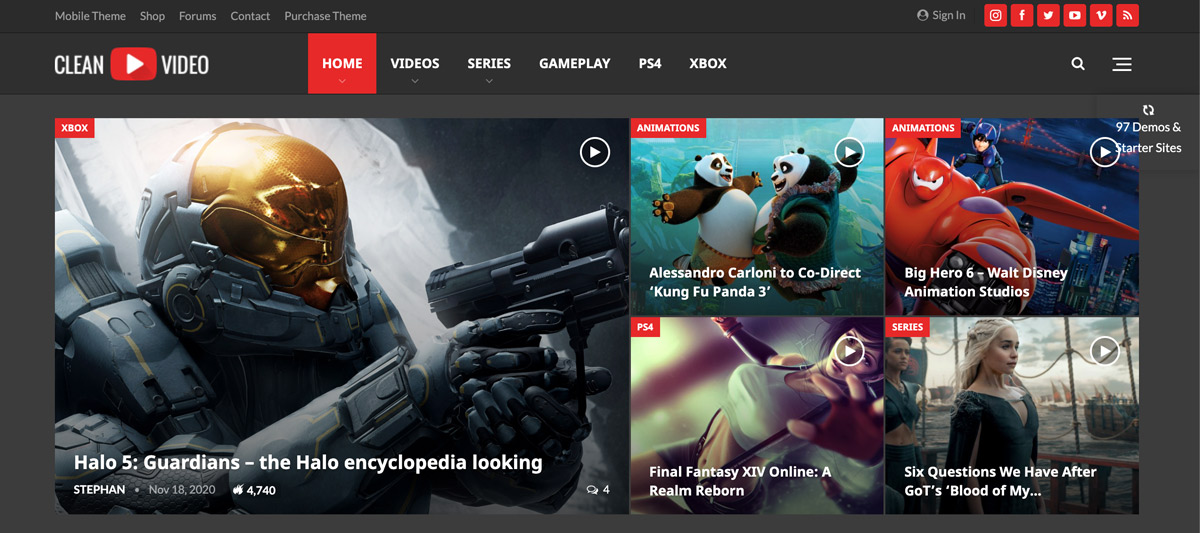 Publisher theme is the best and most complete Video, Magazine, News, Blog and Newspaper style site theme created for WordPress. It comes with multiple templates that provide ad space and is 100% AdSense optimized.
The Publisher theme is best for users who want to customize using one of the 97+ full site packs that come with the theme.
Properties:
97+ page templates
SEO optimization
Speed ​​optimization
Google AMP
Fonts and text style
Image controls and effects
background images
Video embed
And more…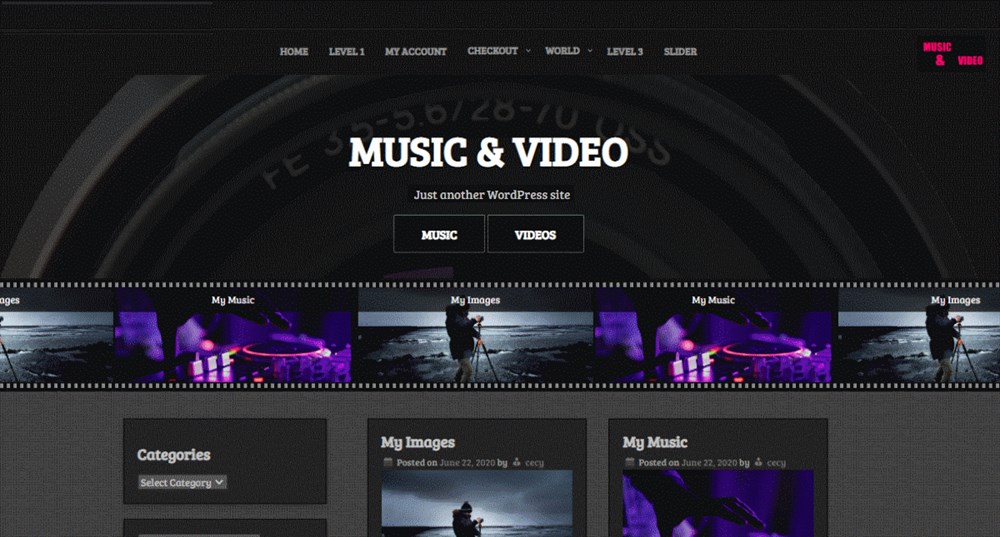 Music and Video is a WordPress video theme with two halves. We really liked some designs and some we didn't really like. However, the fundamentals of the site are polished and skillful, so we can stand up to a somewhat outdated design. You can always change how it looks!
It's a dark magazine-style layout with featured video sections, a textured background, and a dark pink contrast color for the buttons. It's a bit of an old design but could easily be updated with a more contemporary look.
Otherwise, here's everything you could possibly need for your video website.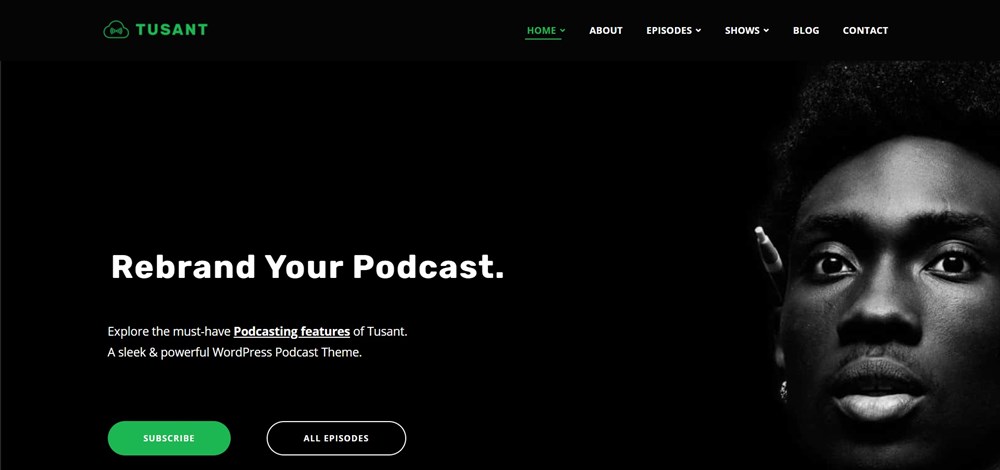 Tusant is a podcast theme that can work equally well for videos. Another dark theme with an inline header image and title that makes an instant impact. The page opens in a single column layout with integrated player, thumbnail and short description.
The design is instantly accessible and delivers videos directly to the viewer with one click. This can make a huge difference to participation and work in your favour. Maybe we'd change the accent color to green as it doesn't work very well here.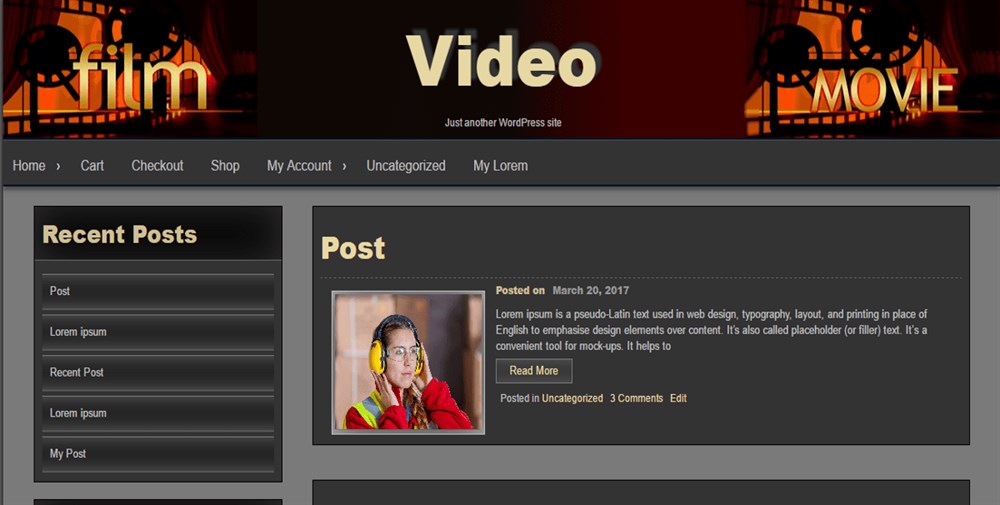 Seos Video is a slightly different WordPress video theme. We highlight it for its function, not its appearance. There's a free and premium version and both scream 1990's in design but work so well that we had to feature them here. You can change the look of this theme in minutes, the framework that provides the site will take much longer.
This is a dark theme with a gray background, dark gray content areas and gold/brown fonts. It's a curious mix but spend a few seconds with the demo and you'll understand why we included it.
The site is fast, very easy to use and has everything you could possibly need from a video website.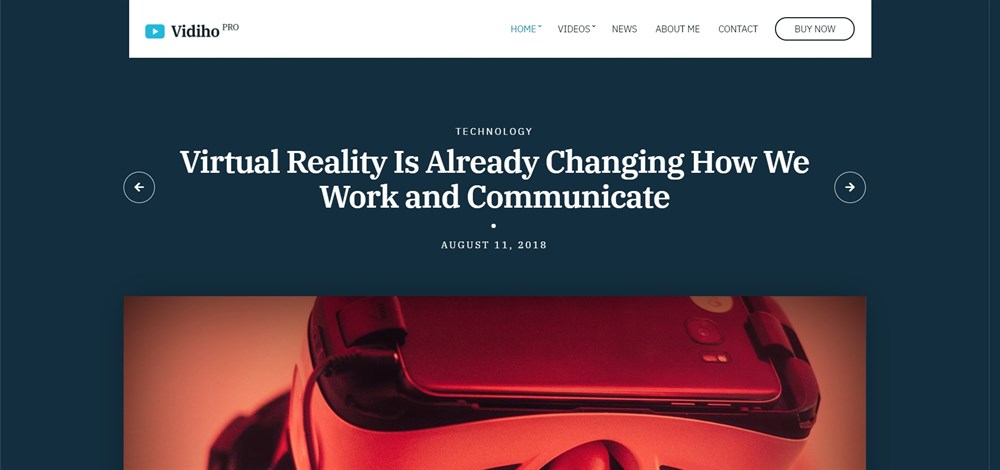 Vidiho is a simple but very smart WordPress video theme. It opens with full screen video and dark background before opening to a white background and a wall grid with a cozy feel. It's a nice combination and a combination that works well.
Simple hover animations are very effective and as soon as you hover the net play icon will appear immediately. Both combine to make the demo website a pleasure to use that should engage and showcase in equal measure.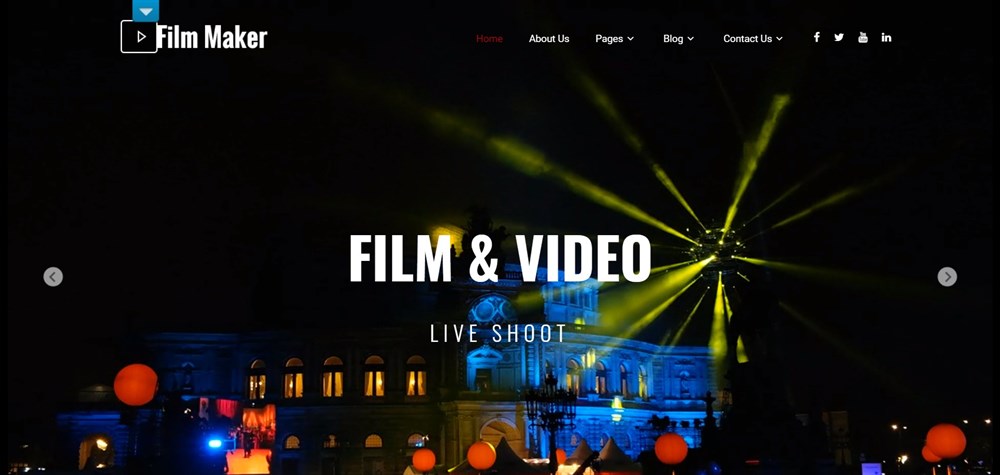 A free and premium version of SKT Filmmaker is available. A dark theme with character that makes good use of color and images. The design uses a dark background with lots of images, white fonts and a contrasting red color.
It opens with a strong title before opening into a standard business layout that can be easily reconfigured as a showcase, video blog, magazine layout, or whatever you want.
Further down the page you see a showcase of exactly what this theme can do, and that's a lot!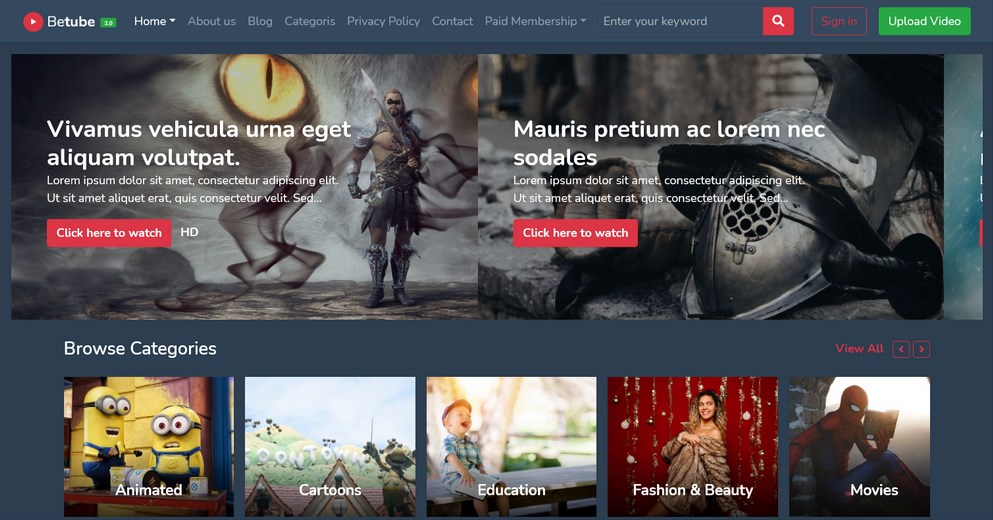 Betube is a great video WordPress theme designed solely for creating a video portal or video blog. With the one-click demo import feature, you can set up and start using your responsive video website right away. You can also choose from ten different homepage designs when creating your website.
Whether  WordPress embed videos from Youtube, Vimeo, or even Dailymotion platforms? Betube lets you do this effortlessly. You can also upload and quickly self-host videos regardless of the format.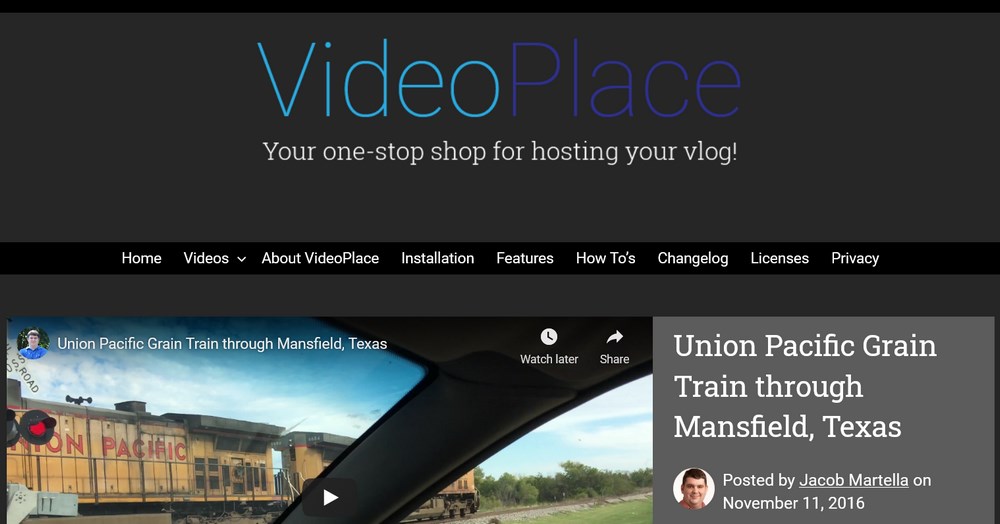 If you upload videos to YouTube but find yourself limited in customization and monetization, VideoPlace is the WordPress video theme for you. It is a theme that finds its place on our list in terms of complete usability.
While the dark WordPress video theme offers customizations that are not otherwise possible on Youtube, you will have to do most of the work yourself. As long as you put in the effort, this theme can be the perfect showcase for your videos.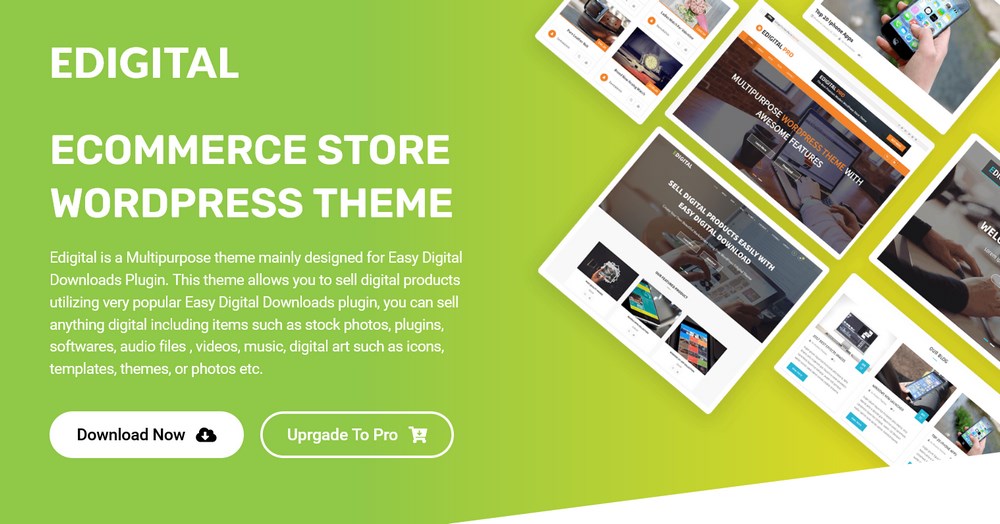 Do you want to set up an online store and sell digital products? EDigital is a multipurpose WordPress theme where you can sell anything digital like audio and video files, plugins, stock photos, software, templates, themes and much more.
This free theme is compatible with the Easy Digital Download plugin that powers the entire store. EDigital is SEO friendly and fully responsive, SEO friendly and makes your website look great on all devices. With a built-in customizer, you can customize your pages exactly the way you want them.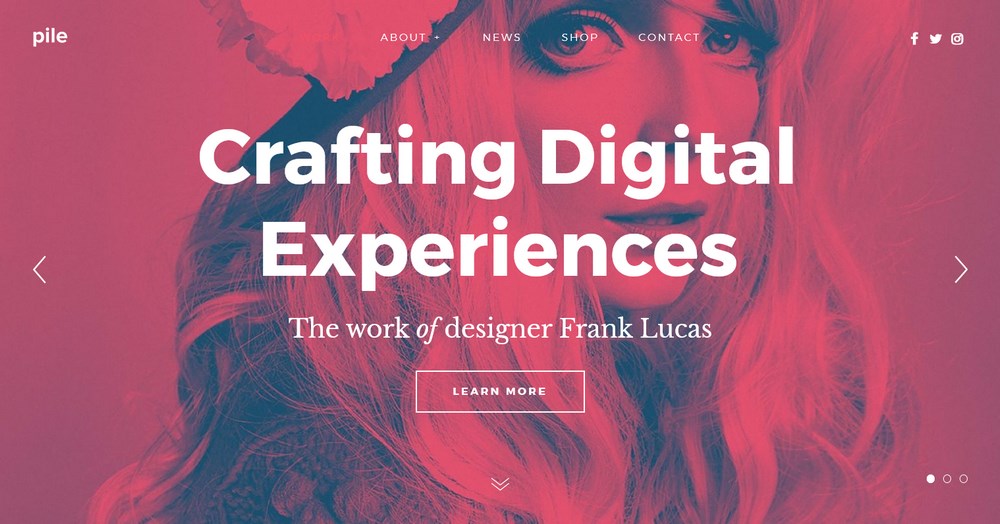 Ideal for a video portfolio website, Pile is a great WordPress theme used for almost any creative website. Showcase your portfolio or embed videos, the Pile theme will make them look great.
Using Pile's portfolio grid tool, you can create exciting layouts to showcase your portfolio, whether it's images or videos. Do you want to include downloadable files? Pile has the tools you need!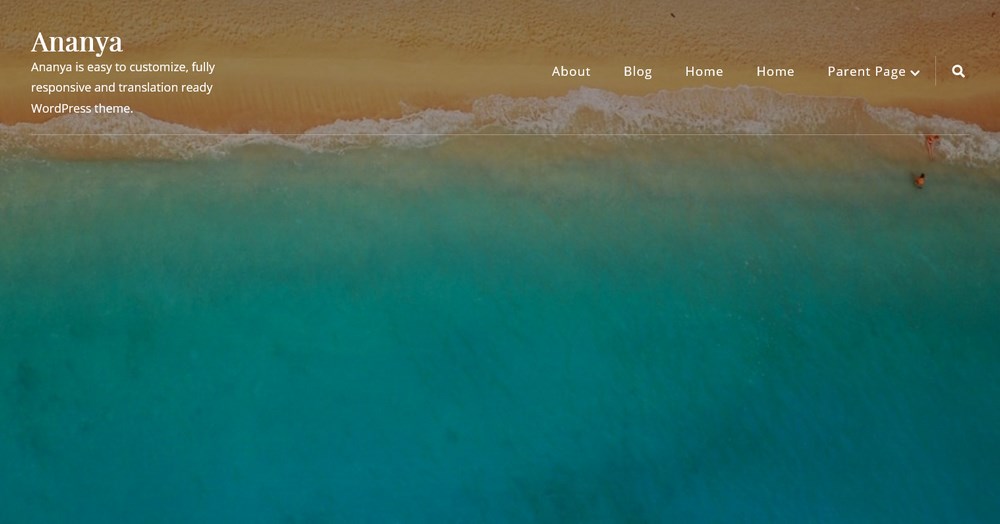 Ananya is featured on our list of the best WordPress video themes for its ease of creating a website. The theme is easily customizable and you can create a website to showcase your videos and blogs easily.
Ananya is a fully responsive WordPress theme and translation ready. The huge hero area can be used to display a promotional image or a video. You can further customize the theme by customizing the background color, custom menu, social media icons and other options.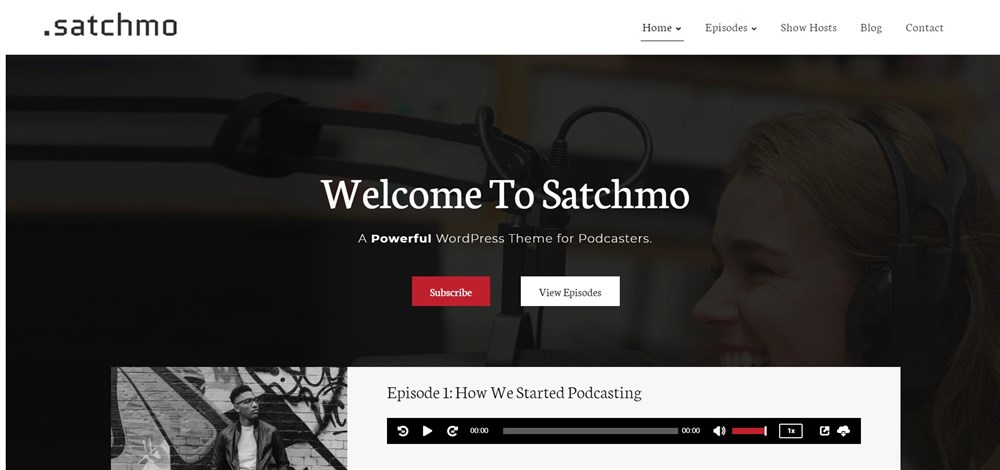 Satchmo is a premium WordPress video theme with a specific style. It is a black and white theme with red as the contrast color. It works well and has a definite appeal that could work in many niches.
The demo layout uses a large grid to outline videos with a small content area underneath. An ideal opportunity to highlight your videos. Since Satchmo uses Elementor, it should be simple to change the build and customization if you want.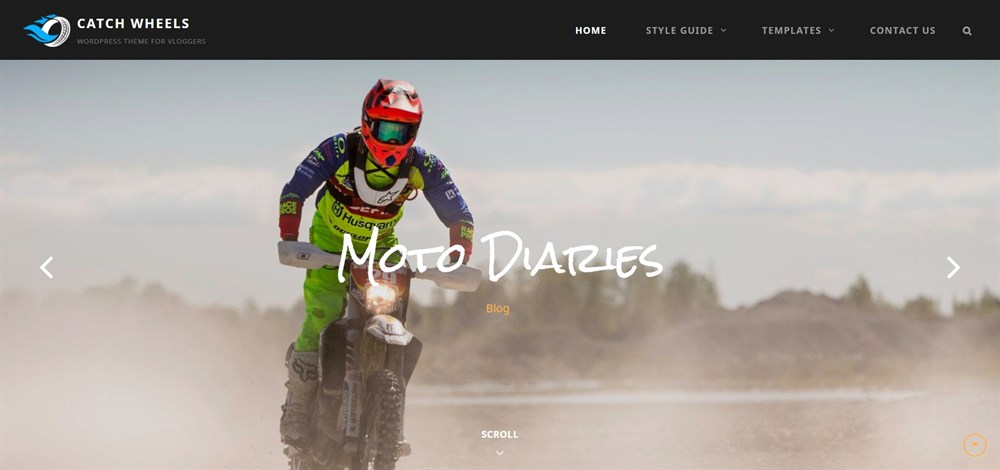 Catch Wheels has both a free and premium version and is an excellent choice for a video website. The premium demo opens with a full-screen image slider that can also include video. It uses dark design and tiles to create the look with a good mix of fonts to increase the appeal.
The demo website shows exactly what is possible with a range of layout options. We especially like tile layouts as they will work extremely well for video.
The free demo has a very similar look and feel, but it will take more work to make it look this good.
WordPress Video Theme
The breadth and quality of the current WordPress video themes are impressive. It was really tough to choose between the ones available, but we think the 13 themes here are the best.
If you're planning your own video website for whatever purpose, you could do much worse than use one of these!
Each is flexible, compatible with video, fully responsive and offers great value.